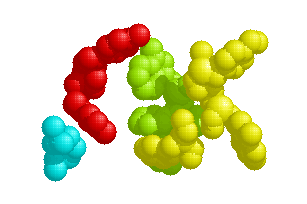 NIMH Psychoactive Drug Screening Program
Purpose
This service provides screening of novel psychoactive compounds for pharmacological and functional activity at cloned human or rodent CNS receptors, channels, and transporters. Bryan Roth MD, PhD (University of North Carolina Chapel Hill) will perform pharmacological and functional screening of novel compounds as a contractor to NIMH.
Screening of compounds is provided to qualified academic investigators at no cost.
| | |
| --- | --- |
| | Assays using for a large number of cloned human or rodent cDNAs for CNS receptors, channels and transporters. For a list of current receptors/transporters go to:clones.html |
| | Ki determinations |
| | Functional assays to determine effects on second messenger systems, channel activity and transporter function |
| | Cloned receptors are also available at no cost to qualified investigators. |
| | Assays are now available for bioavailability predictions (CaCo2, MDR-1) and cardiovascular toxicity predictions (HERG, 5-HT2B) |
Who is eligible
| | |
| --- | --- |
| | Academic investigators involved in basic or clinical research relevant to mental health. |
| | Projects from research and development areas in small businesses relevant to mental and behavioral science. |
| | Areas of interest to NIMH include the design and development of new chemical entities and small molecules as research tools, probes, targeted drug delivery systems, and PET ligands for brain imaging. |
| | Research areas of interest are described in the Division of Basic and Clinical Neuroscience Research webpage. |
How to submit requests
| | |
| --- | --- |
| | To request services from the PDSP you must submit an assay request. Requests are processed by the PDSP Online Database. To create an assay request you first need to be registered as an Investigator. Please use the following tutorial which will help you create an account and submit an assay request: PDSP Assay Request Tutorial. If you already have a PDSP account simply login and initiate a new request. |
| | Requests for screening, assays requested, and supporting information will be submitted to Jamie Driscoll, B.S. at NIMH and Bryan Roth, M.D., Ph.D. at University of North Carolina Chapel Hill. |
| | NIMH and University of North Carolina Chapel Hill will review and prioritize all requests for screening. An assay request's status can be monitored through the PDSP Online Database's 'Assay Request Manager'. |
Requests will include
| | |
| --- | --- |
| | A brief summary of the significance of the compound to the investigator's research. |
| | Source of financial support for the proposed research. |
Further information
| | |
| --- | --- |
| | We look forward to discussing your research needs. |
Bryan Roth, M.D., Ph.D.
Project Director
University of North Carolina Chapel Hill
Department of Pharmacology School of Medicine
CB 7365, 8032 Burnett-Womack Building
Chapel Hill, NC 27599
phone: 919-966-7535
fax: 919-843-5788
e-mail: bryan_roth@med.unc.edu

Jamie Driscoll, B.S.
Chief of Research Services
Division of Neuroscience and Basic Behavioral Science NIMH
6001 Executive Blvd., Rm. 7185
Bethesda, MD 20892-9641
tel (301) 443-5288
fax (301) 402-4740
http://www.nimh.nih.gov/about/organization/dnbbs/index.shtml
e-mail: jdrisco1@mail.nih.gov
Citing the PDSP
If the PDSP provides data that is used in your publication(s) please do two things: cite the PDSP and let us know about your success! Citing the PDSP and reporting the citation will help keep the PDSP available to you.
Reporting the publication. When reporting the citation please e-mail Estela Lopez with the citation in the following format: Authors, Title, PubMed reference.
Citing the PDSP. If significant consultation is provided by the PDSP co-authorship may be appropriate. If the PDSP provides any data to you that is used in your publication please use this reference:

[Ki determinations, receptor binding profiles, agonist and/or antagonist functional data, HERG data, MDR1 data, etc. as appropriate] was generously provided by the National Institute of Mental Health's Psychoactive Drug Screening Program, Contract # HHSN-271-2013-00017-C (NIMH PDSP). The NIMH PDSP is Directed by Bryan L. Roth MD, PhD at the University of North Carolina at Chapel Hill and Project Officer Jamie Driscol at NIMH, Bethesda MD, USA.
For experimental details please refer to the PDSP web site http://pdsp.med.unc.edu/ and click on "Binding Assay" or "Functional Assay" on the menu bar (experimental details have been updated!).
Relevant Links