The site has moved. Please update your bookmarks.
If you are not redirected, click here to access the PDSP IMS site.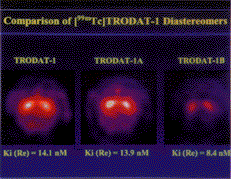 NIMH/SNIDD Tracer Database Initiative
The National Institute of Mental Health (NIMH) and the Society for Non-Invasive Imaging in Drug Development (SNIDD) are in the process of creating a centralized, searchable PET, SPECT, and MRI tracer database as a resource for the scientific community. The goal of this effort is to promote the use of imaging probes in preclinical and clinical research and in drug discovery to accelerate the identification and validation of novel targets for therapeutic intervention in human diseases, especially those with central nervous system components.
Search SNIDD database
The toxicology and safety data in the NIMH/SNIDD database is provided as a service to the research community. It is being supplied to the database with no warranties, express or implied, including any warranty of merchantability or fitness for a particular purpose. It is the intention of NIMH/SNIDD that the originator/party submitting toxicology and safety data to the database not be liable for any claims or damages arising from a third party's use of the data; however, no indemnification is provided or intended.
Courtesy of Kung HF
Specificity of diastereomers of [99mTc]TRODAT-1 as dopamine transporter imaging agents.
Meegalla SK, Plossl K, Kung MP, Stevenson DA, Mu M, Kushner S, Liable-Sands LM, Rheingold AL, Kung HF.
J Med Chem 1998 Feb 12;41(4):428-36